About me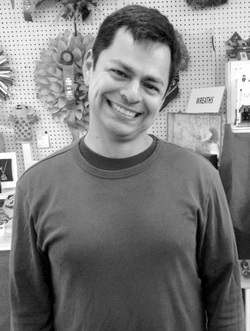 I was born in Hollywood, Florida. At age 10, my family and I moved to Santa Cruz, Bolivia, South America where I lived for eight years until graduating from high school. I then moved back to Florida where I completed my undergraduate degree in Communication with a minor in Psychology at Florida Atlantic University. In 2006, I moved to North Carolina to attend graduate school at University of North Carolina at Pembroke, where I earned my Master degree in Service Agency Counseling. In 2010, I graduated from the University of Kentucky with my 2nd Master degree in Rehabilitation. I spent over three years working as a Certified Rehabilitation Counselor, assisting individuals with physical/mental/emotional disabilities locate suitable employment before transitioning into the mental health sector. I am currently one of the few Bilingual Mental Health professionals in the Wake County area. I am currently licensed in North Carolina and Virginia.
When I am not
counseling
,
I enjoy
traveling abroad
, running
marathons and
practicing martial arts
.

My therapeutic approach is eclectic, typically using "Cognitive-Behavioral Therapy," using interventions from "Adlerian Therapy," "Cognitive Therapy," "Reality Therapy," "Rational-Emotive Behavior Therapy," "Gestalt Therapy," and "Strategic Family Therapy" when deemed appropriate. I have had specialized training in a variety of areas including, but not limited to, Mood Disorders - including Depression and Anxiety, Anger Related Issues/Disturbances, Behavior Problems, Familial Relations, Substance Abuse, and Crisis Intervention.
Overall my approach to therapy is simple: you describe how you want your life to be, and together - through counseling and therapeutic intervention - we make it your reality.
We work together to help you have the life you want.
It is never too late to get what you want or to get back what was once lost.
---
---
Acerca de mí
Nací en Hollywood, Florida. A los 10 años, mi familia y yo nos mudamos a Santa Cruz, Bolivia en América del Sur, donde viví por 8 años hasta graduarme de la escuela secundaria. Luego me mudé de nuevo a Florida, donde completé mi licenciatura en Comunicación con un grado menor en Psicología en la Universidad de Florida Atlantic. En 2006, me mudé a Carolina del Norte y estudié en la Universidad de Carolina del Norte de Pembroke, obtuviendo mi Maestría en Consejería de Servicios de Agencia. En 2010, me gradué de la Universidad de Kentucky con mi segunda Maestría en Rehabilitación. Pasé más de 3 años trabajando como Consejero de Rehabilitación, ayudando a las personas con discapacidades físicas / mentales / emocionales, localizar empleo adecuado antes de mi transición en el sector de la salud mental. Actualmente soy uno de los pocos profesionales bilingües de Salud Mental en el área del Condado de Wake.
Actualmente estoy licenciado en Carolina del Norte y Virginia.
Cuando no estoy consejando, me gusta viajar al extranjero, correr maratones y practicar arte marciales.
Mi enfoque terapéutico es ecléctico, utilizando típicamente "Terapia Cognitivo-Conductual," utilizando intervenciones de "Terapia de Adler", "Terapia Cognitiva", "Terapia de la Realidad", "Terapia de Conducta Racional-Emotiva", "Terapia Gestalt" y "Terapia de Familia Estratégico", cuando se considere apropiado. He tenido entrenamiento especializado en una variedad de áreas, incluyendo, pero no limitado a, los trastornos del estado de ánimo - incluyendo la depresión y la ansiedad, problemas associados con el enojo / disturbios, problemas de conducta, relaciones familiares, abuso de sustancias, e intervenciónes de crisis.
En general, mi enfoque de la terapia es simple: usted describe cómo quiere que sea su vida, y juntos - a través de consejería y intervenciones terapéuticas - lo hacemos su realidad.
Trabajamos juntos para ayudarle a que tenga la vida que desea.
Nunca es demasiado tarde para obtener lo que uno quiere o lo que una vez perdió.